Over the last few months, we have all become familiar with the COVID-19 global pandemic. The coronavirus is "decorated" with the Spike (S) protein, one of the 25 proteins of SARS-CoV-2 that are encoded in the viral genome.
The infection starts with the attachment of the virus to the cell membrane to enter host cells. S- protein mediates infection by interacting with the human angiotensin-converting enzyme 2 (ACE2) receptor (Figure 1). This interaction occurs when the receptor-binding domain (RBD) of the S- protein which recognizes and binds ACE2. This interaction mediates membrane fusion and viral entry into human cells.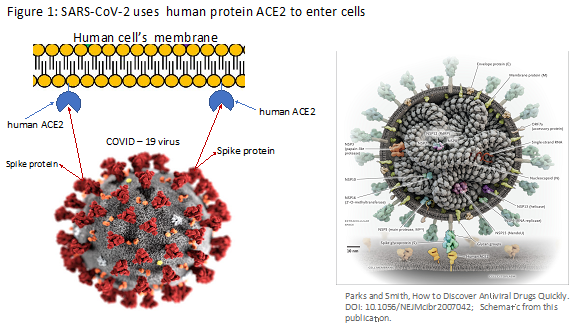 So, it is no wonder why the S-protein, RBD of S-protein and human ACE2 became key targets in Covid-19 related scientific research and in the worldwide collaborative efforts to develop diagnostics such as therapeutic antibodies or a vaccine.
To support the fight against COVID-19 and fulfill the high demand for these proteins, I volunteered, together with my colleague, Ashley Hutchinson to produce and purify high-quality S-protein, RBD and human ACE2 in mammalian cells. It is not a trivial contribution. ACE2 protein, for example, would usually cost hundreds of dollars per ~10 µg. We started this challenging journey back in April, during the lockdown of the city and of the University of Toronto. Since then, 64 aliquots of our products have been distributed among different labs in Toronto, across Canada and abroad. We are very happy to have feedback from researches indicating that our products are performing well in the projects and in some cases even better than proteins obtained from commercial sources.
Please visit corresponding Zenodo page for the "Materials and Methods" and details of how we produced and purified these targets to share with the global research community.