Gosh, it's been a while since I posted – not because I have nothing to report, but because I've been super busy in the lab trying to get things done, as well as having loads of meetings and a symposium. So, in the meantime, I've done two purifications of ACVR1 and set up crystal plates, and two purifications of TGFBR1 complexed with FKBP12, and set up more crystal plates (for a total of 68 plates in the last month or so).
The ACVR1 and TGFBR1/FKBP12 purifications are here, and there's still one to write up. I've got a couple of hits in these plates – some are for fragment screening, and others co-crystallisation of M4K compounds with the ALK5 (TGFBR1/FKBP12) complex and ACVR1. I've been trying to choose compounds with good affinity for TGFBR1, rather than the same ones I'm using for ACVR1, as I've not been getting hits when setting up the same compounds as ACVR1. This makes obvious sense – we are trying to get selectivity for ALK2 over ALK5, so those that bind ALK2 well don't bind ALK5 very well. We want to see how the ALK5 pocket differs with some of these compounds compared to ACVR1. The compound structures are shown in the Zenodo records.
For a sneak preview of the hits shown in Zenodo, here are some crystal pics.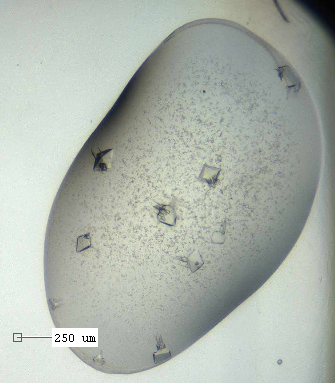 ACVR1 + LDN193189: 20 % PEG1000, 0.2 M Lithium sulphate, 0.1 M citrate pH 4.2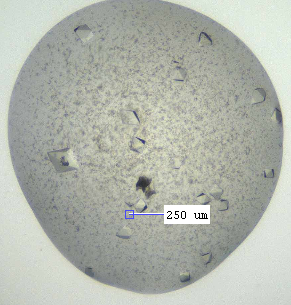 ACVR1 with M4K2045: 40 % PEG300, 0.1 M citrate pH 4.2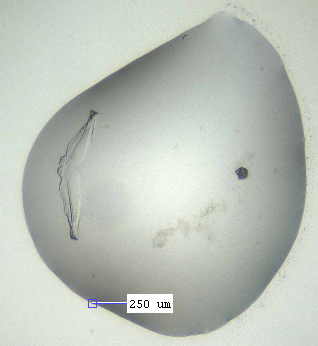 ACVR1 + M4K2009: 0.8 M ammonium diphosphate basic, 0.1 M acetate pH 4.5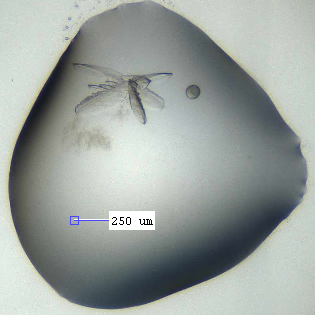 ACVR1 + M4K3003: 0.8 M ammonium diphosphate basic, 0.1 M acetate pH 4.5 (4 degrees)
I coarse screened AVCR1 again with LDN-193189, because our crystal system for fragment screening right now is giving variable space groups and thick skins on the drops, making mounting and structure solution difficult. I have XChem fragment screening again on 13 July, so I really need to get the above hit into fine screens for that trip. I intend to put it on the in-house generator on Monday to see how the diffraction looks, then set up more plates on Wednesday.
So, hopefully I'll post again on Tuesday or Wednesday to let you know how they look.