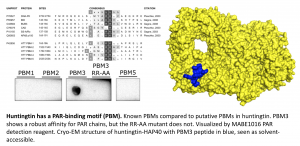 One of the major findings of the HDSA-funded project to find huntingtin interactors relevant DNA repair was that many proteins that interact with huntingtin are modified by poly ADP ribose (PAR). Previous posts have described our hypothesis that huntingtin binds poly ADP ribose, our preliminary evidence that it does so, frustrating attempts to understand why it does so, and other confounding results.
I wish this post was about a major breakthrough clarifying everything… but it's just another normal, incremental piece of the puzzle (aka: science).
The full story and links to raw data can be found HERE.